The United States is home to 424 National Parks, 620 amusement parks, over 35,000 museums, and don't even get us started on how many restaurants there are to try!
But which states are the most popular to visit by U.S. tourists? Using data from YouGov to determine what states Americans are visiting, Stacker has ranked the top 25 by the percentage of U.S. adults who have already made a visit. Check the rankings to see if your next destination is among these popular choices, or find your next adventure as you scroll.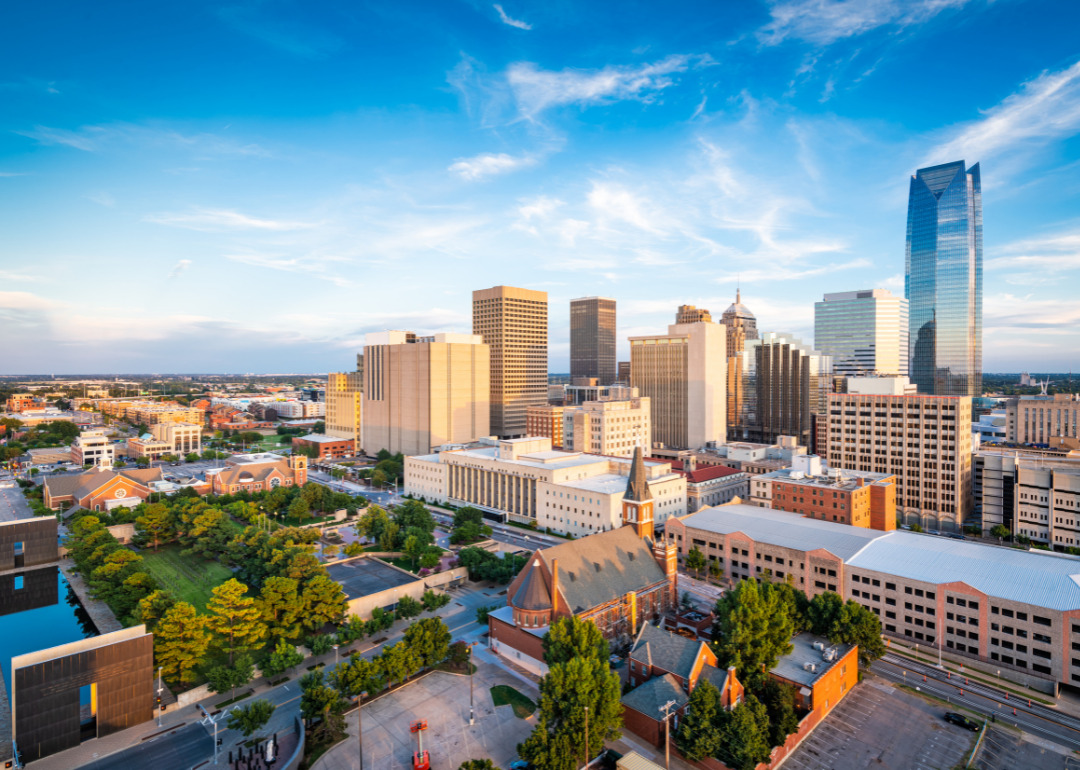 Canva
#21. Oklahoma (tie)
Percentage of US adults who have been: 30%
In a state full of early American history, Oklahoma City visitors can take the opportunity to learn about the state's 39 Native American nations in Oklahoma by visiting the First Americans Museum. Tulsa's museum Greenwood Rising tells visitors about the city's Black neighborhood, Greenwood, a once-historic space known as a freedom colony after slavery was abolished. The area, lauded as Black Wall Street, was infamously bombed in 1921 during an incident known as the Tulsa Race Massacre.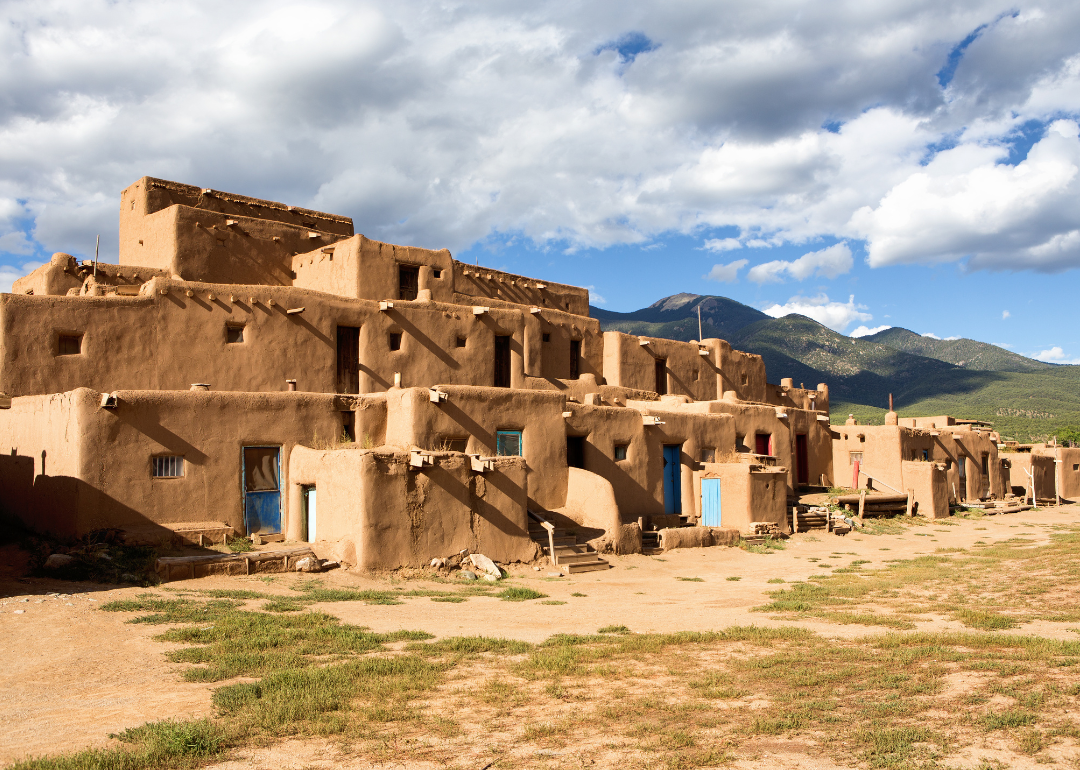 Canva
#21. New Mexico (tie)
Percentage of US adults who have been: 30%
Travelers who like visiting the cultural landmarks listed among the bevy of UNESCO World Heritage sites can see more here than in any other U.S. state. In order to achieve UNESCO World Heritage status, a place must be a work of human genius, contain superlative natural phenomena, or any of the eight other requirements on the qualifications list. The sites located in New Mexico, such as Carlsbad Caverns National Park, Chaco Culture National Historical Park, and Taos Pueblo all manage to fit the criteria!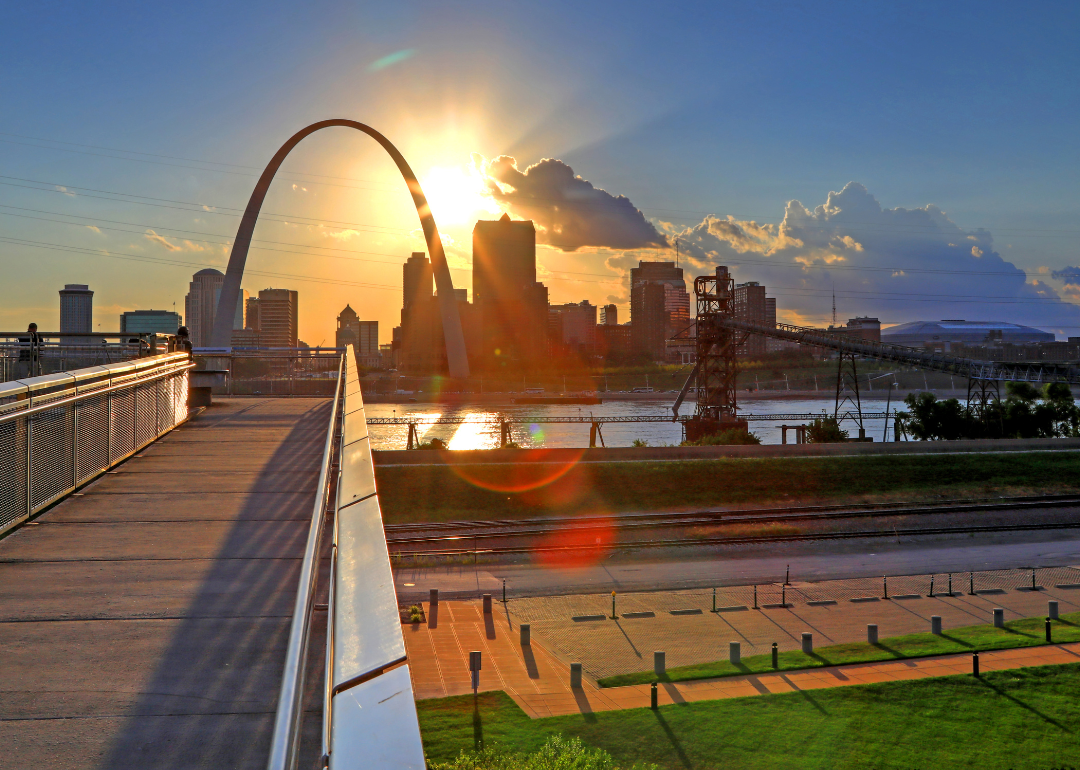 Canva
#21. Missouri (tie)
Percentage of US adults who have been: 30%
While Missouri may be most well known for the Gateway Arch in St. Louis, many are unaware upon first glance that the museum housed beneath the landmark is full of history about the "Show Me State" including how it got the nickname. Don't be fooled though, Missouri offers so much more. Branson, for example, is known as the "Live Entertainment Capital of the World" per their tourism site because of the amount of entertainment that is accessible at any given time, and the state has six national parks you can visit.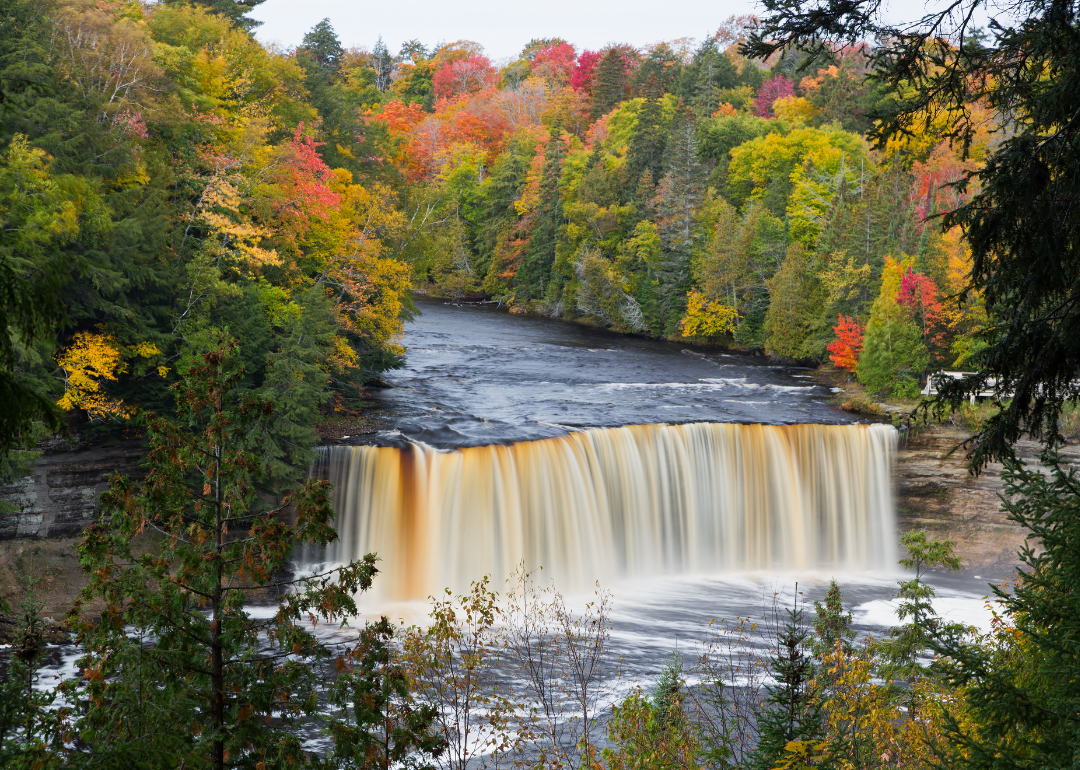 Canva
#21. Michigan (tie)
Percentage of US adults who have been: 30%
Michigan offers a mixture of natural beauty, history, and culture all wrapped up in one state. Visitors often make their way to Detroit to visit the Motown Museum, where curators pay homage to a form of music that, in essence, created the blueprint for all other music to follow. Home to four of the Great Lakes (Erie, Superior, Huron, and Michigan) travelers can also enjoy a car-free adventure—including a side trip to Mackinac Island, home to Arch Rock. On top of that, the University of Michigan in Ann Arbor offers a huge list of attractions from the University of Michigan Museum of Arts, to the Museum of Natural History Planetarium.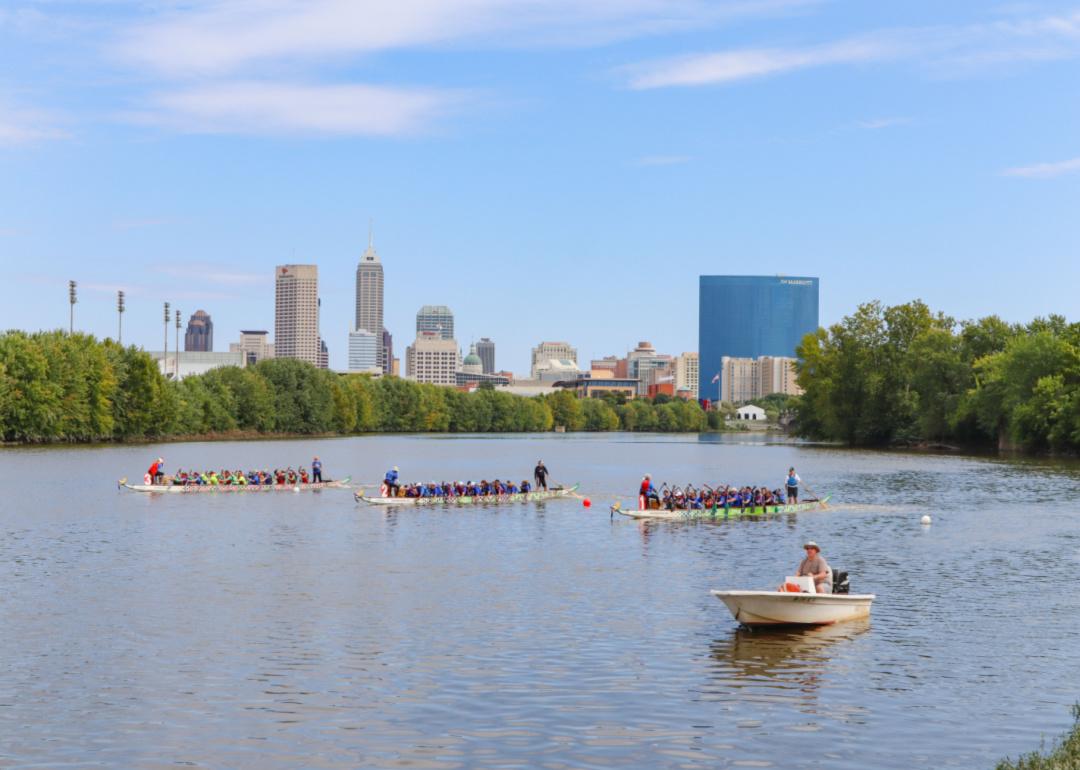 LuvAlisa // Shutterstock
#21. Indiana (tie)
Percentage of US adults who have been: 30%
Indiana's White River State Park includes many attractions for sports fans, history buffs, and fans of the outdoors—such as the NCAA Hall of Champions in Indianapolis and the Eiteljorg Museum of American Indians and Western Art. The Indiana Dunes National and State Parks offer outdoor fun on the southern shore of Lake Michigan with everything from campsites to bike trails, to an interactive geocaching hunt.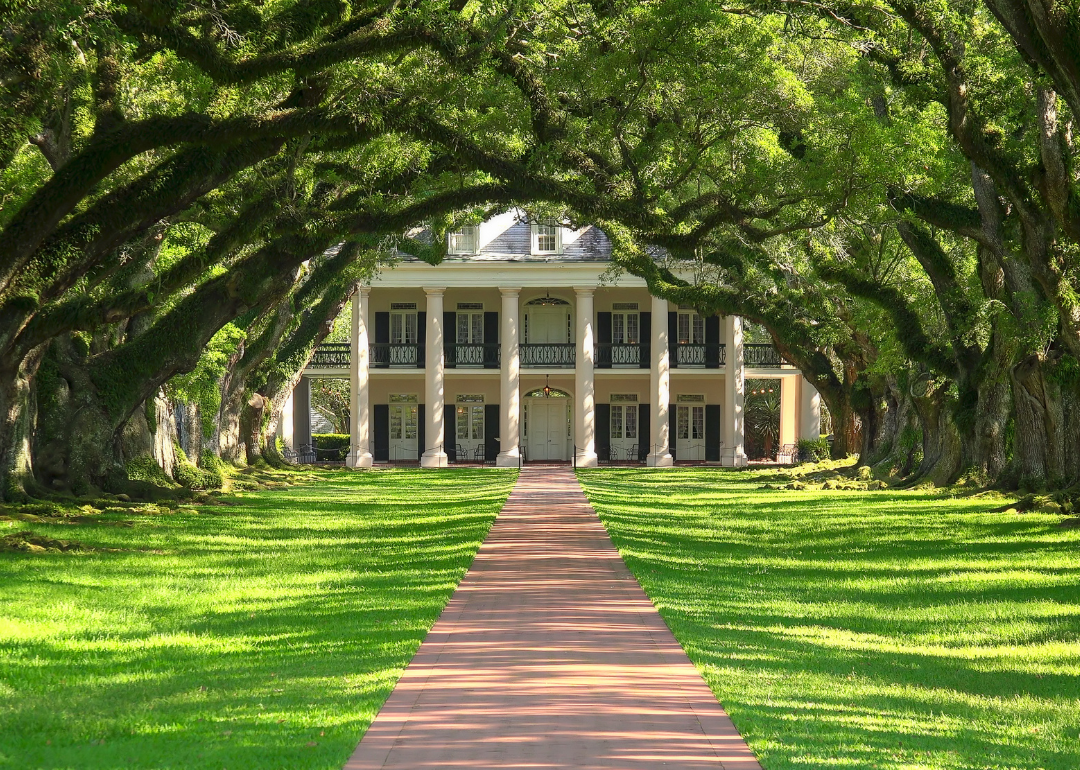 Canva
#20. Louisiana
Percentage of US adults who have been: 31%
There are some places that make you feel like you've stepped back in time and Louisiana is one of them. It is known for having a multitude of plantations, with at least 14 still open to visit, but they also represent a painful chapter of enslaved people in the state's history. New Orleans is home to the French Quarter, known for jazz on Bourbon Street, shimmery beads during Mardi Gras, and some of the best beignets you can find. Grand Isle is known as a "sportsman's paradise" with amazing fishing spots that offer unencumbered views of the Gulf of Mexico. Plus, if you've always wanted to delve a little deeper into understanding Voodoo, an African diasporic religion, there are plenty of places to dive in.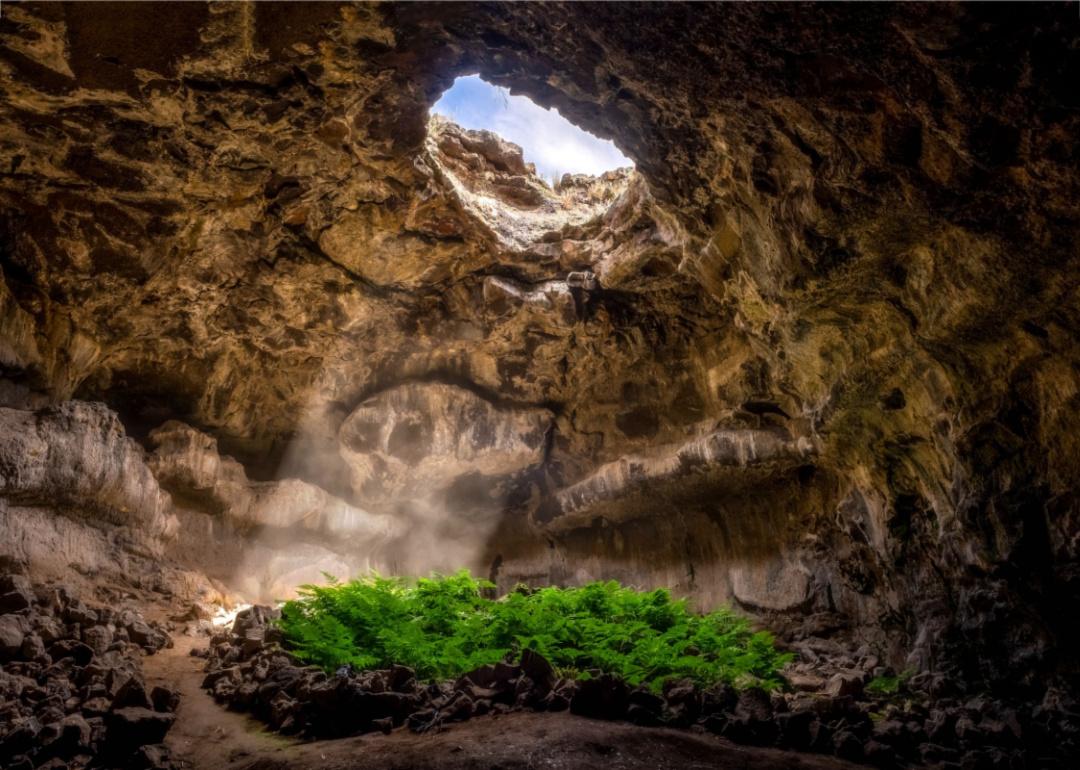 Ko Zatu // Shutterstock
#18. Kentucky (tie)
Percentage of US adults who have been: 34%
Travelers can walk through part of the world's longest-known cave system in Mammoth Cave National Park. With more than 400 miles of explored caves and nearly 53,000 acres of land to explore, you can spend a whole day there and not even notice. If you're in more of a sporty mood, you can head north to Louisville for river cruises, horse racing at Churchill Downs, and baseball nostalgia at the Louisville Slugger Museum & Factory.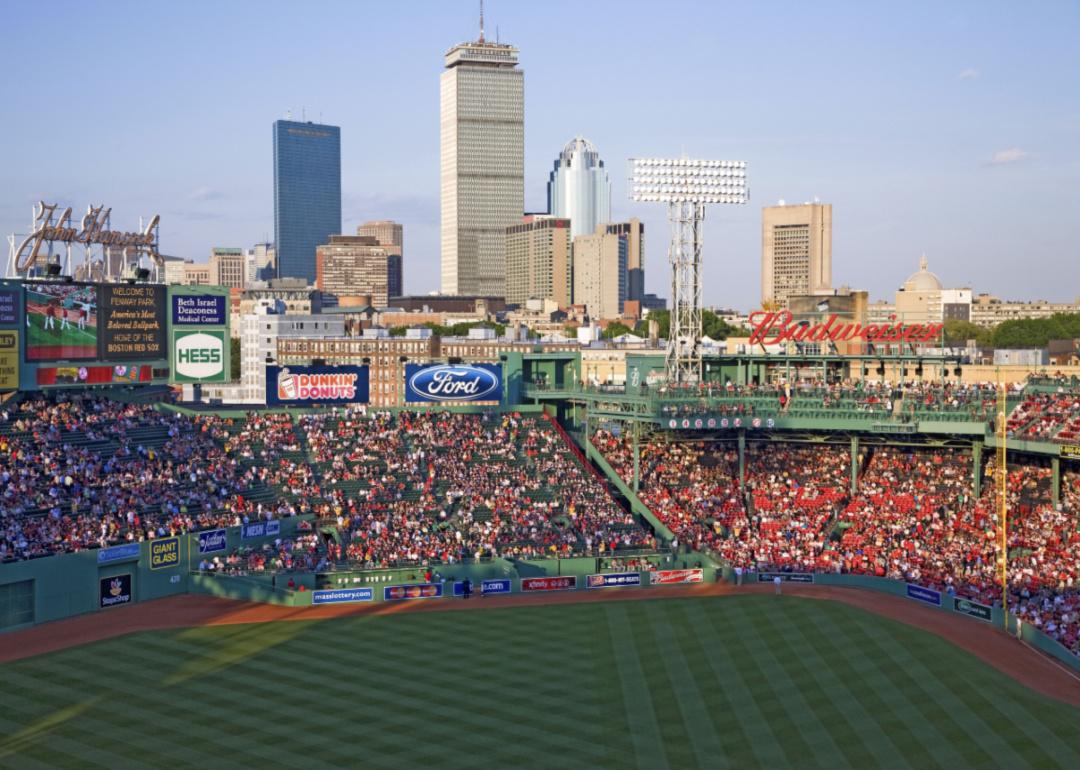 Joseph Sohm // Shutterstock
#18. Massachusetts (tie)
Percentage of US adults who have been: 34%
Massachusetts is the kind of state where the kid in you can come out and play! Baseball fans will feel right at home in Boston's Fenway Park, home of the Red Sox and the oldest ballpark of any Major League Baseball team. Fans can surround themselves with the peanuts and Cracker Jacks as the stadium is open for tours all year round. In the fall, Salem, Massachusetts, becomes the state's focal point as a popular destination to celebrate Halloween—and no wonder, considering the town's history! The infamous Salem Witch Trials took place in the state, a time when religious persecution and fear allowed women to be burned at the stake if they were found to be witches. Speaking of American history, you can also visit Plymouth Rock, known as the landing spot of the Mayflower.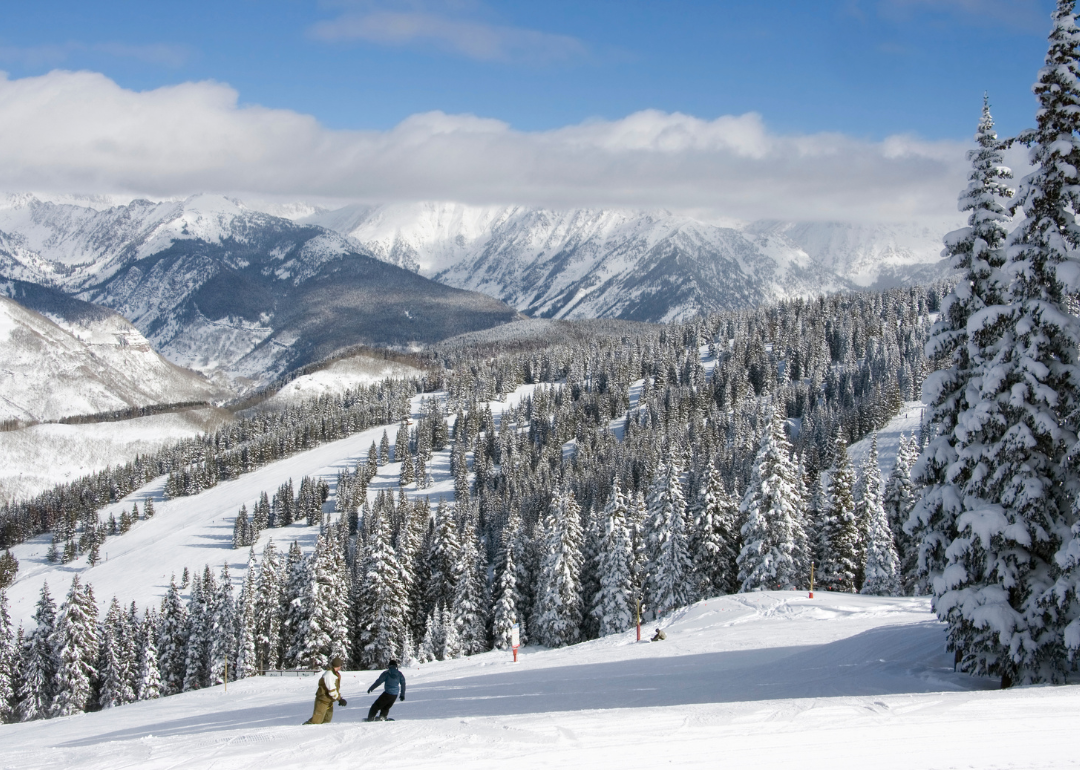 Canva
#17. Colorado
Percentage of US adults who have been: 36%
Winter sports are definitely the draw when it comes to the popularity of Colorado, or at least one of the big ones thanks to the Rocky Mountains as the state's backdrop. Aspen, Vail, and Breckenridge are some of the most well-known ski towns in the country. Colorado is also home to one of the most amazing outdoor amphitheaters, Red Rocks, which gets world-class musical acts on a constant basis and is housed within a natural rock formation. For history fans, the Chicano Movement was a heavy influence on the landscape of the state, and you can visit the Chicano Humanities and Art Council Gallery to learn about the rich history of the 60s and 70s.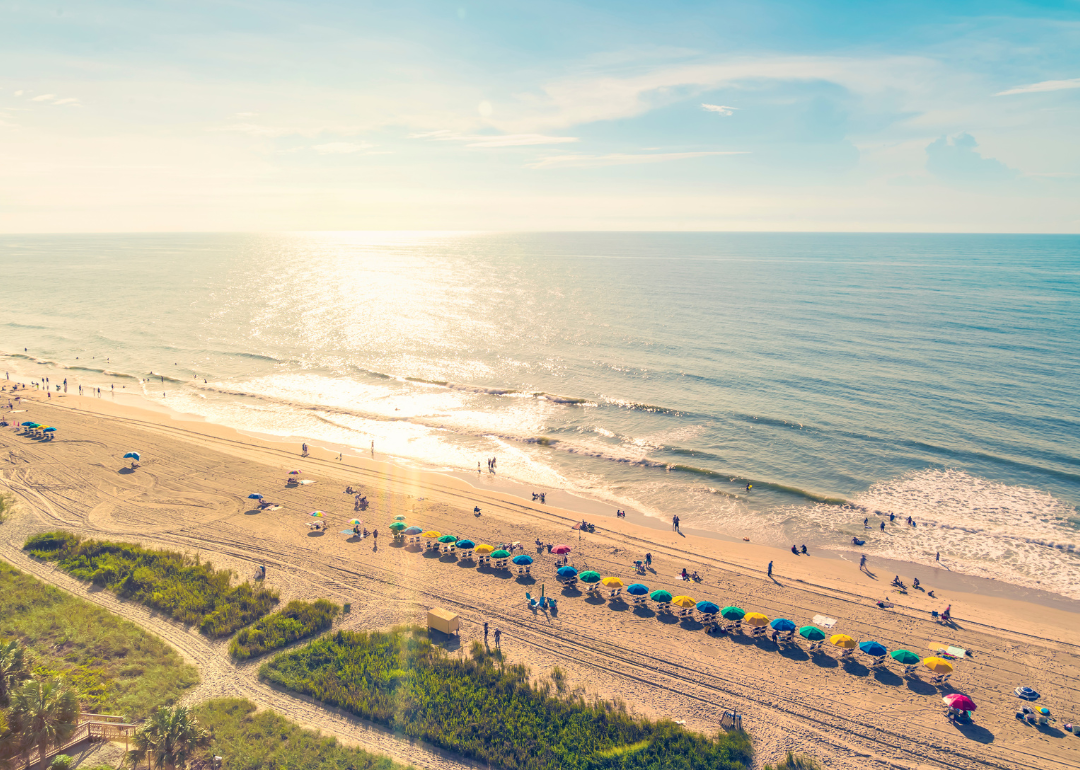 Canva
#15. South Carolina (tie)
Percentage of US adults who have been: 38%
When you think of white sand beaches you might not necessarily think of anywhere stateside—but that's where South Carolina comes in to prove you wrong. The state has a bevy of beaches, including the popular family tourist attraction Myrtle Beach, which offers 60 miles of white sand and a fantastic boardwalk full of carnival rides, games, and delicious food. Speaking of the cuisine, culinary tourists can head to Charleston, which is known for making a killer bowl of shrimp and grits. For a sweet treat, the brown sugar and butter explosion known as Charleston chewies is the local favorite. Both of these borrow heavily from the influence of the Gullah Geechee, descendants of West and Central Africa forced upon the lands during the trade of enslaved people, and who have been well known for preserving and maintaining their cultural heritage.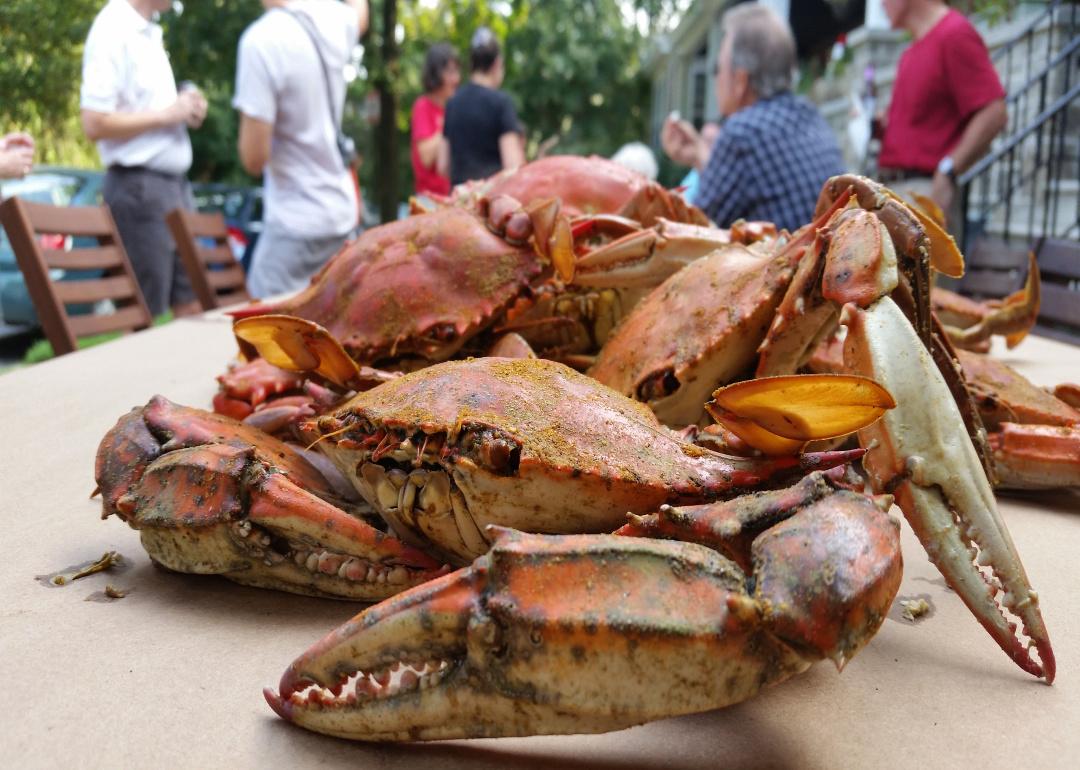 P. Dorman // Shutterstock
#15. Maryland (tie)
Percentage of US adults who have been: 38%
Maryland is another state well-loved for its seafood dishes, but here crab is king. Travelers will find plenty of unique local dishes, including Maryland Crab Soup, Smith Island Cake, and stuffed ham. Travelers can also make their way to Baltimore, where you can find everything from the National Aquarium, to the Baltimore Museum of Art, and Oriole Park to spend a day traversing.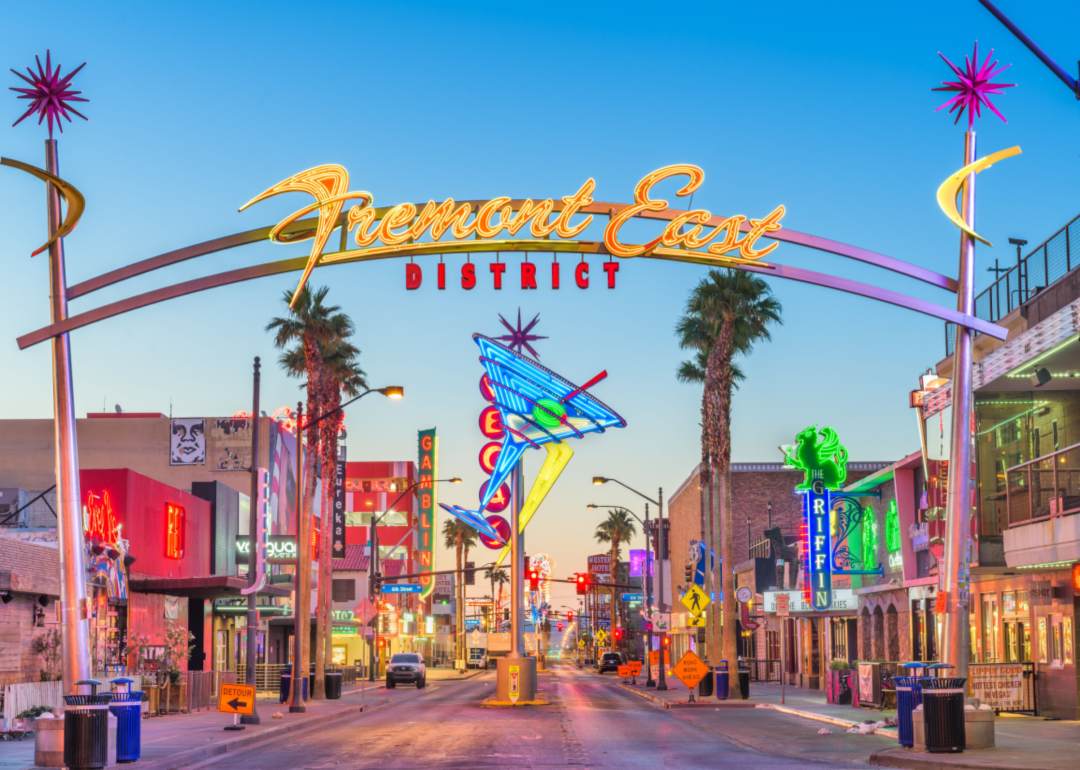 Sean Pavone // Shutterstock
#13. Nevada (tie)
Percentage of US adults who have been: 39%
Lucky be a lady in Nevada, or at least she does in its most famous city, "Sin City" Las Vegas, Known as the kind of destination where what happens there, stays there, you can hit the Strip for gambling, fine dining and residency shows that alternate throughout the season. If the bright lights of the big city aren't your thing, Nevada also has spectacular natural attractions like Red Rock Canyon and Lake Tahoe.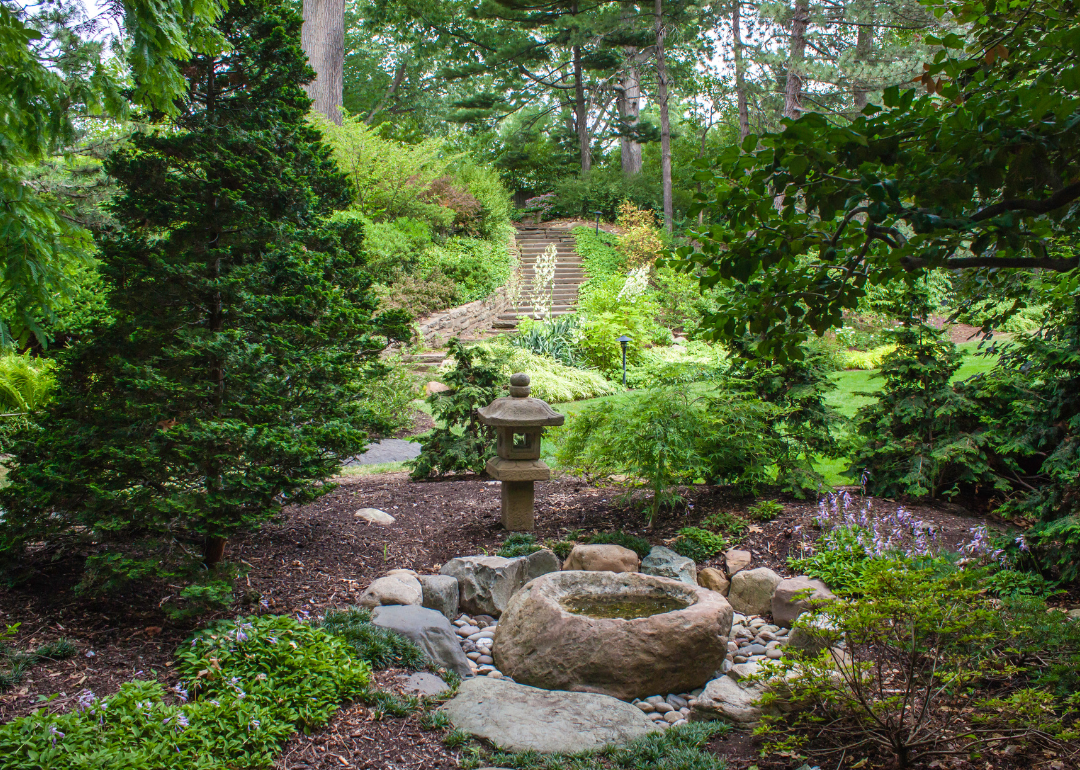 Canva
#13. Ohio (tie)
Percentage of US adults who have been: 39%
Ohio is full of family-friendly stops, like Cleveland's Great Lakes Science Center and the Cleveland Botanical Garden. Tourists can head out of town to learn about a different way of life with a visit to Amish country, where you can learn about what life is like without technology.
f11photo // Shutterstock
#11. Tennessee (tie)
Percentage of US adults who have been: 40%
Nashville, Tennessee, is where country music and bachelorette parties meet in the lively downtown honky-tonks. Head west to Memphis for the soulful sounds of blues music on Beale Street. If you're looking for a strong drink, the Tennessee Whiskey Trail is home to at least 30 distilleries open for a visit.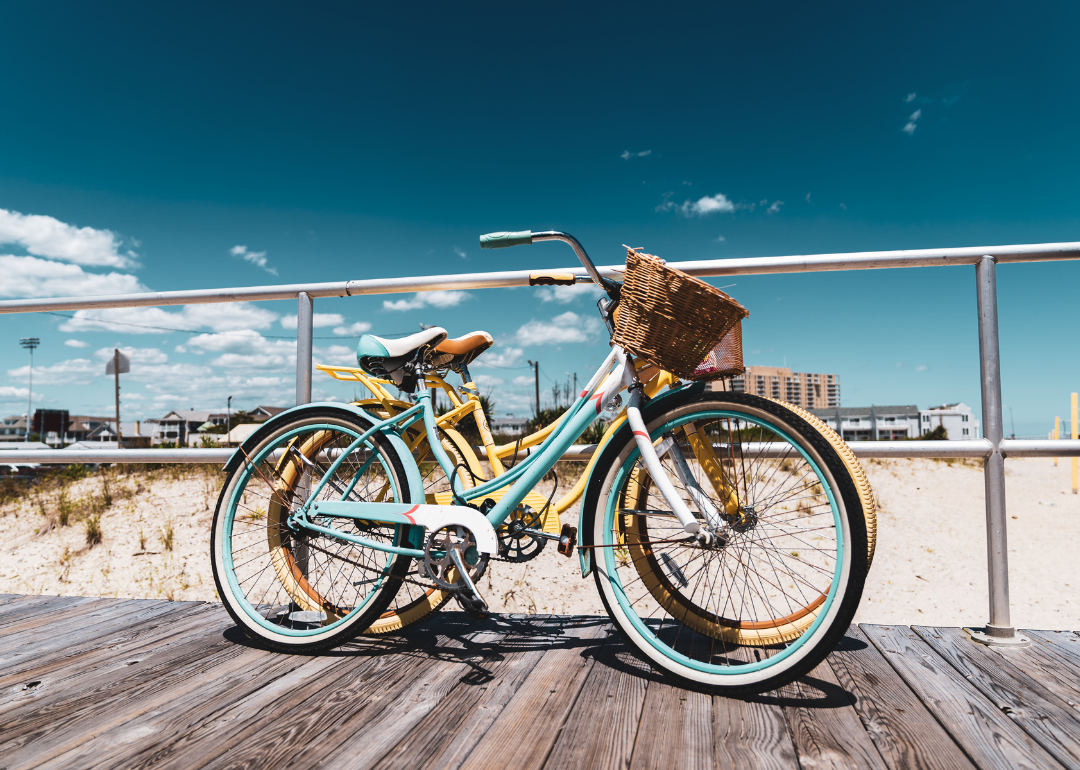 Canva
#11. New Jersey (tie)
Percentage of US adults who have been: 40%
Boardwalk and beach lovers get both along the Jersey Shore, which is far more entertaining than what the MTV series made it seem like. In fact, it's known for being a well-loved family destination, especially in Ocean City, which is known as an alcohol-free city. Gamblers can try their luck by heading north to the casinos in Atlantic City, home to the first boardwalk built in the world.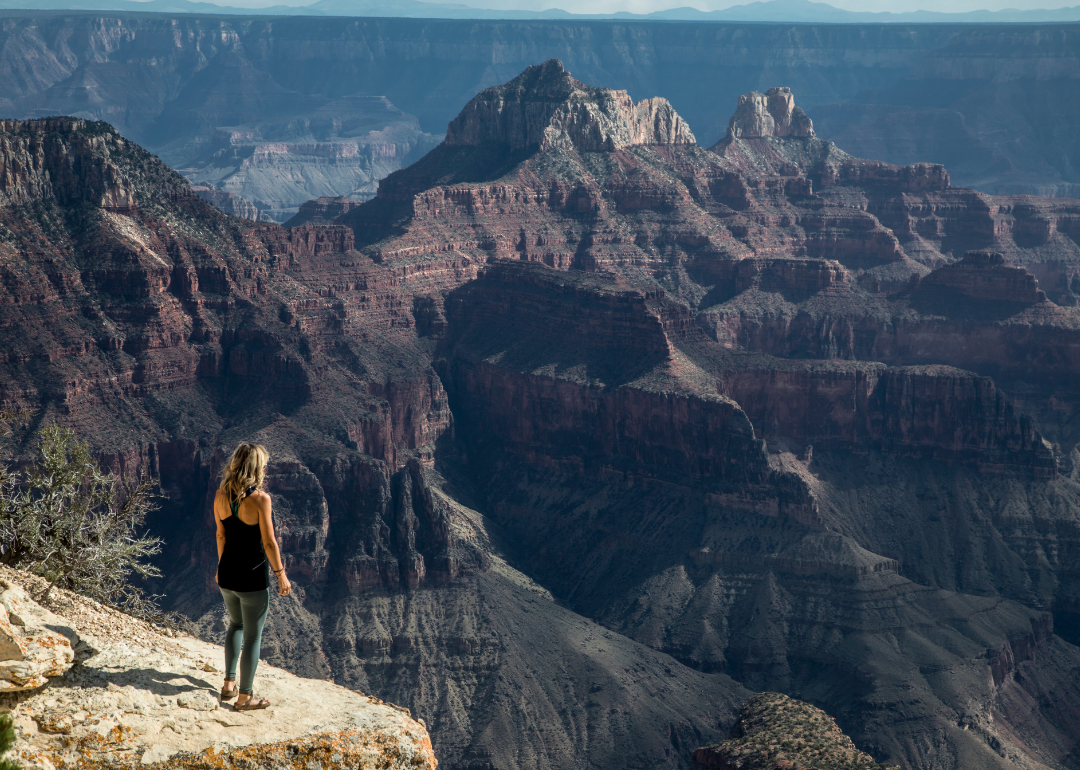 Canva
#10. Arizona
Percentage of US adults who have been: 41%
The natural red-rock formation known as the Grand Canyon may be Arizona's top stop, but Arizona has many natural feats to admire. Saguaro National Park protects the state's majestic cacti, as well as the petroglyphs left behind by the Hohokam tribe. Guided tours in Antelope Canyon can feel like hiking through another world, with canyons and formations that look more like they belong on Mars than in America.
Canva
#8. North Carolina (tie)
Percentage of US adults who have been: 42%
North Carolina is a regular pit stop for racing fans. Charlotte's NASCAR Hall of Fame not only tells the history of the sport but puts visitors in the driver's seat in its racing simulators. Those who want off the roads and into the great outdoors can make their way to the Great Smoky Mountains National Park, full of lush forests, wildflowers, and waterfalls as far as the eye can see.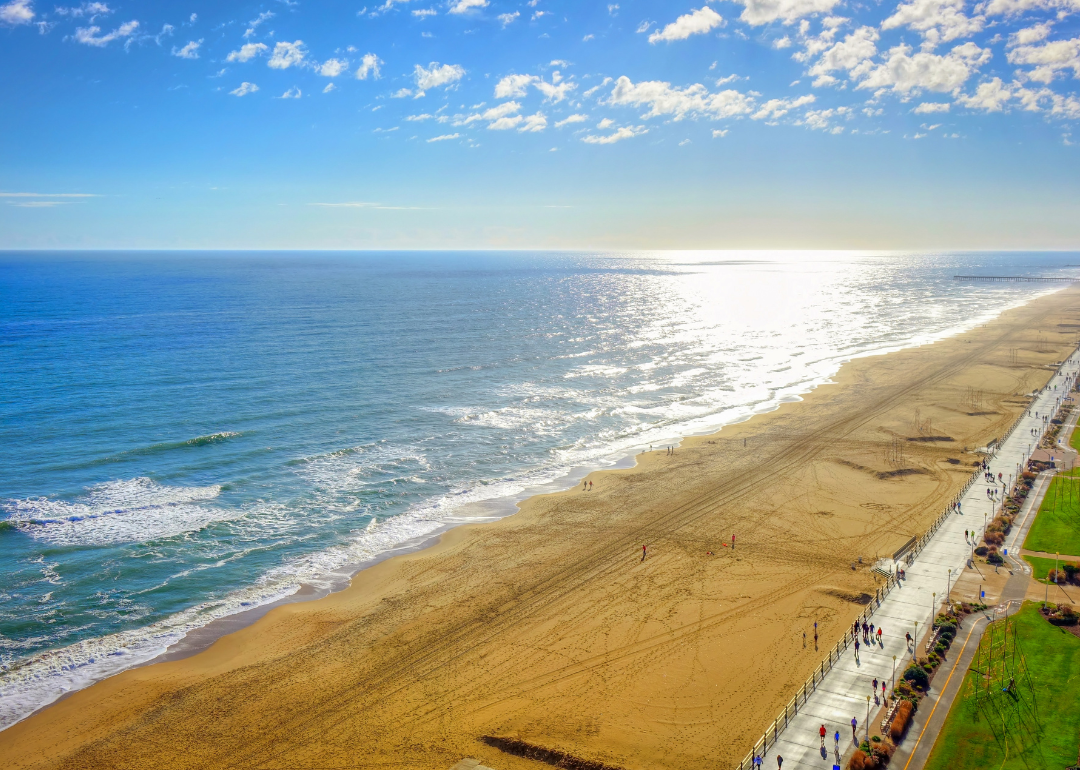 Canva
#8. Virginia (tie)
Percentage of US adults who have been: 42%
Outdoor lovers have plenty to choose from between Virginia's Atlantic Ocean beaches and the Blue Ridge Mountains. Literary fans can enjoy the Poe Museum in Richmond, dedicated to one of the United States' most famous writers and a tragic tale in literary history, Edgar Allen Poe. Fans of history can visit the sites for the Battle of Yorktown, the last battle of the Revolutionary War, as well as the colonial town of Williamsburg known as the world's largest living history museum.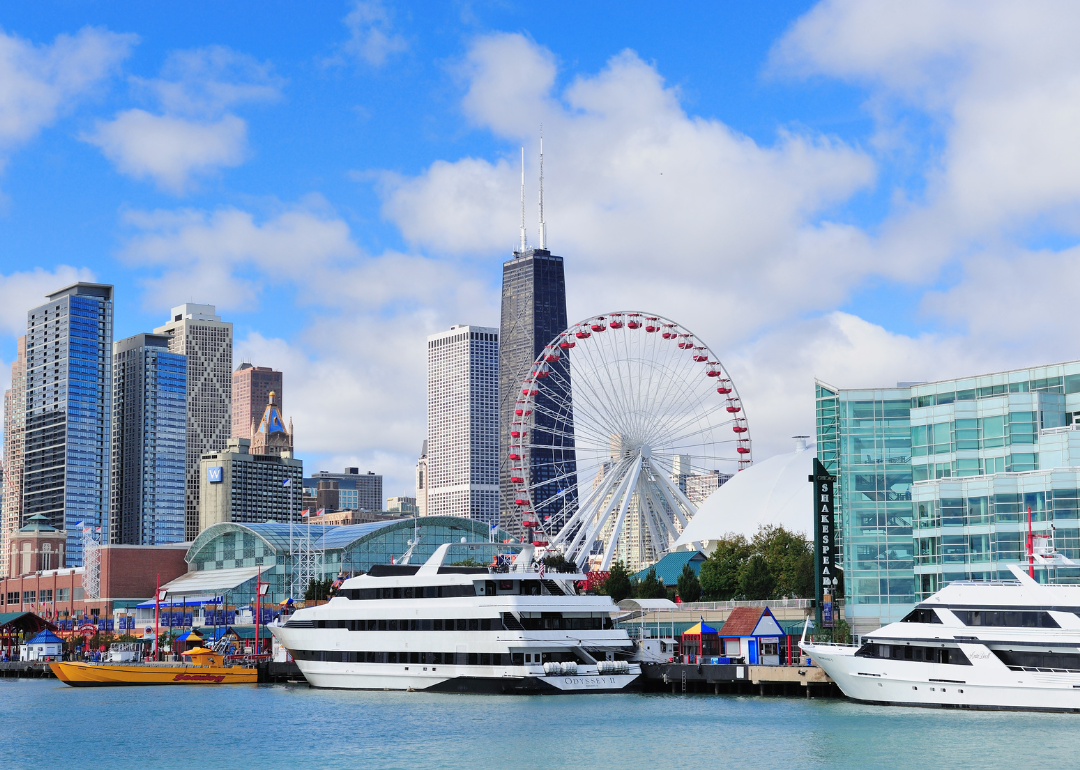 Canva
#7. Illinois
Percentage of US adults who have been: 43%
Foodies have many options in Illinois' biggest city, Chicago, from the city's deep-dish pizza and Chicago-style hot dogs to upscale dining from award-winning chefs. Tourists and locals alike flock to the lakefront in the summer, when the weather is ideal. The state is also known for playing a heavy role in the Underground Railroad, and in Alton, you can partake in either driving or walking tours that guide you along some of the most important landmarks.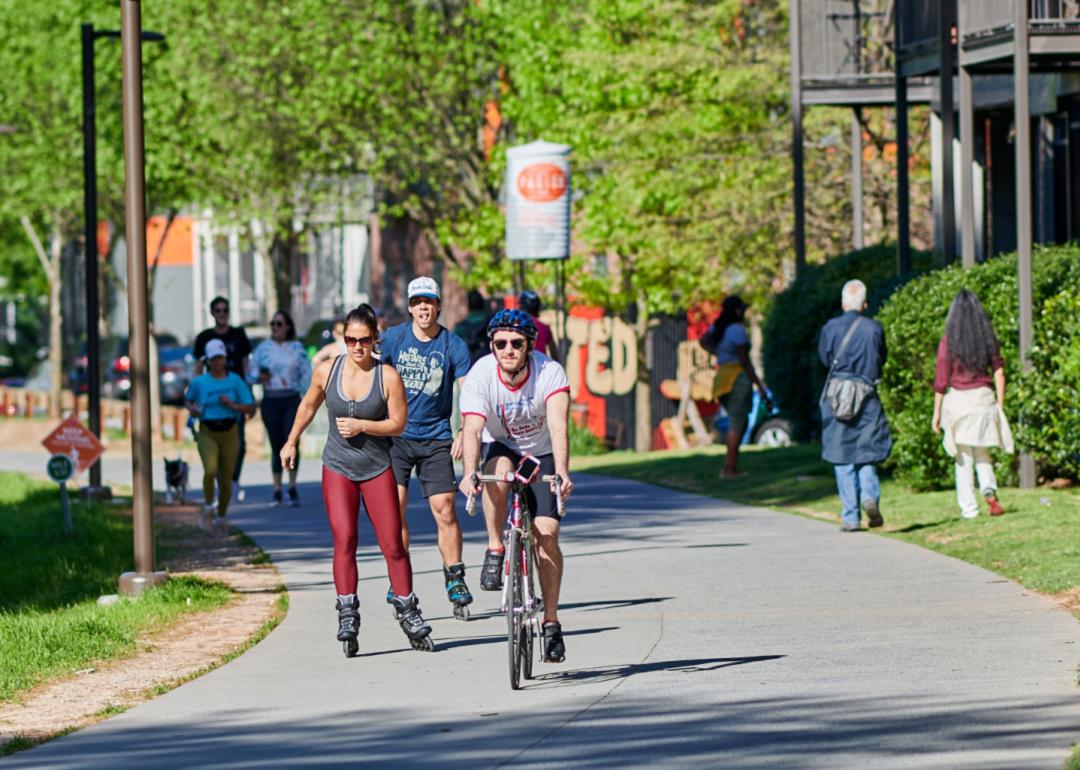 Christopher V Jones // Shutterstock
#6. Georgia
Percentage of US adults who have been: 46%
Atlanta's film and music industries make Georgia's capital city an entertainment hub. You can take a tour of Tyler Perry's massive production studio, or catch a glimpse of The Dungeon, the studio where Outkast recorded their albums. Tourists who want a more relaxing pace choose Savannah's historic downtown and coastal living.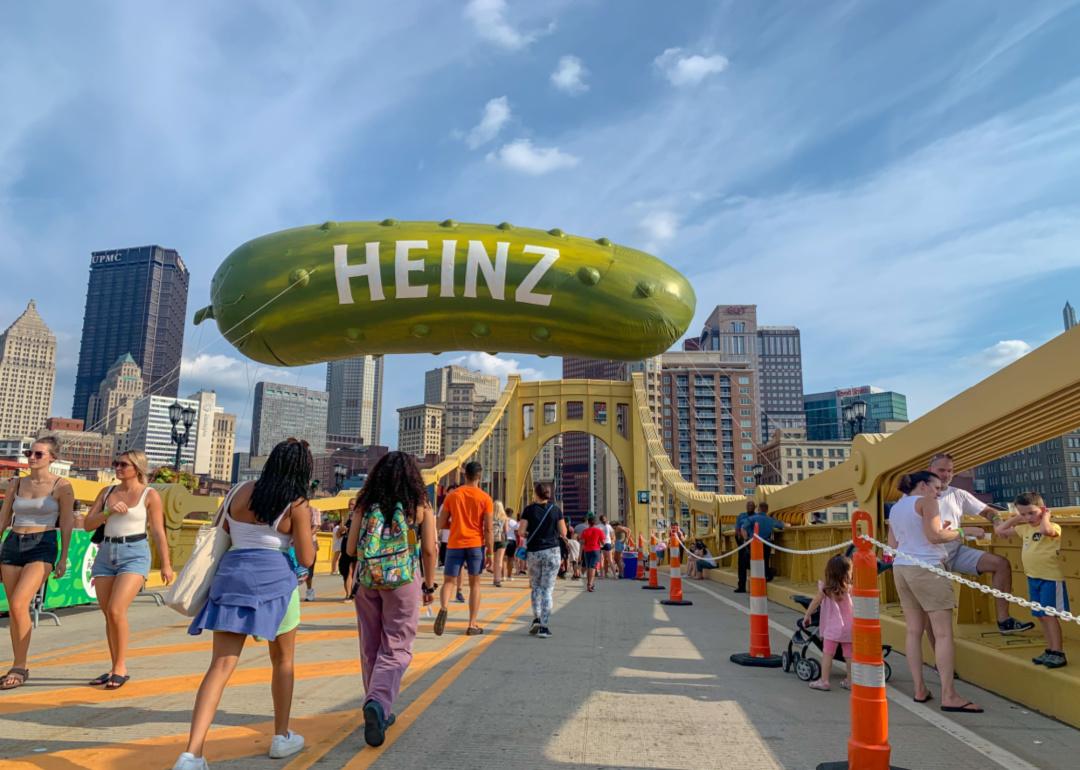 gg5795 // Shutterstock
#5. Pennsylvania
Percentage of U.S. adults who have been: 48%
Head to Philadelphia to bring a U.S. history lesson to life, with visits to Independence Hall, the Liberty Bell, and the Benjamin Franklin Museum. Art lovers can hop over to Pittsburgh to The Andy Warhol Museum, home to the largest collection of Warhol art and archives. You can also get your fill of chocolate as Pennsylvania is the home of Hershey's Chocolate World.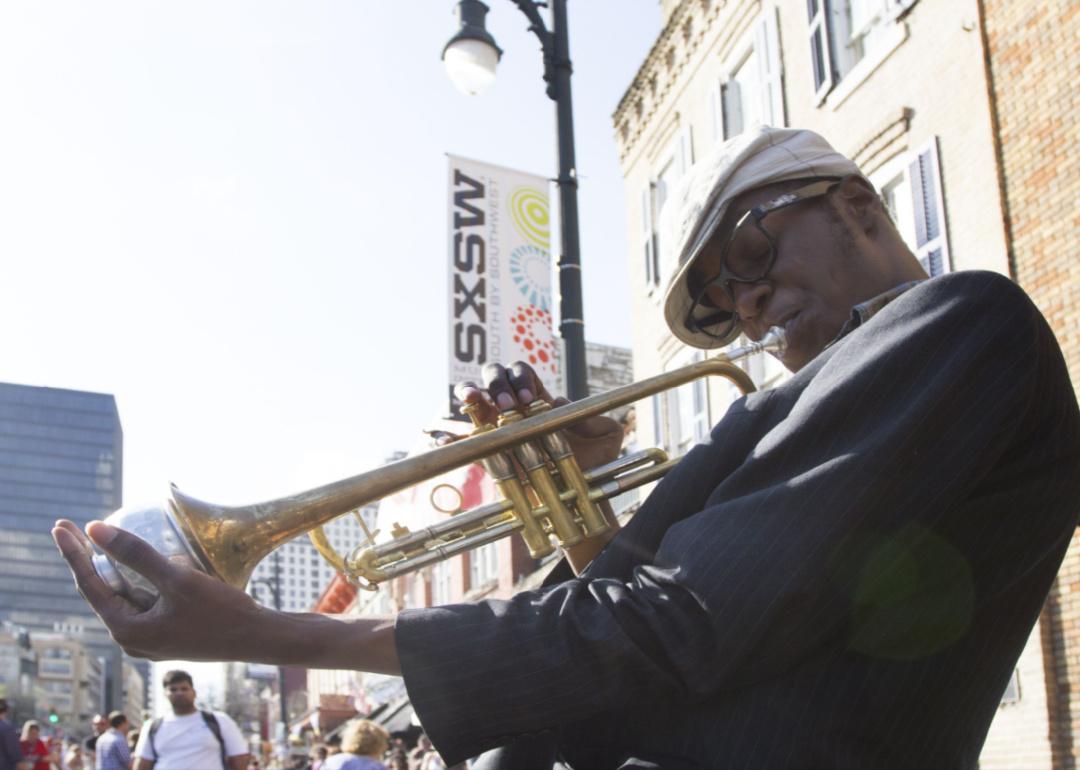 PiercarloAbate // Shutterstock
#4. Texas
Percentage of US adults who have been: 52%
Trips to Texas leave a lot of ground to cover, from Space Center Houston for NASA lovers, to the Alamo in San Antonio for history buffs, and Big Bend National Park's limestone cliffs in the western part of the state. Fans of live entertainment can also make their way to Austin for SXSW every March for a week-long festival and conference centering around music, arts, technology, and culture.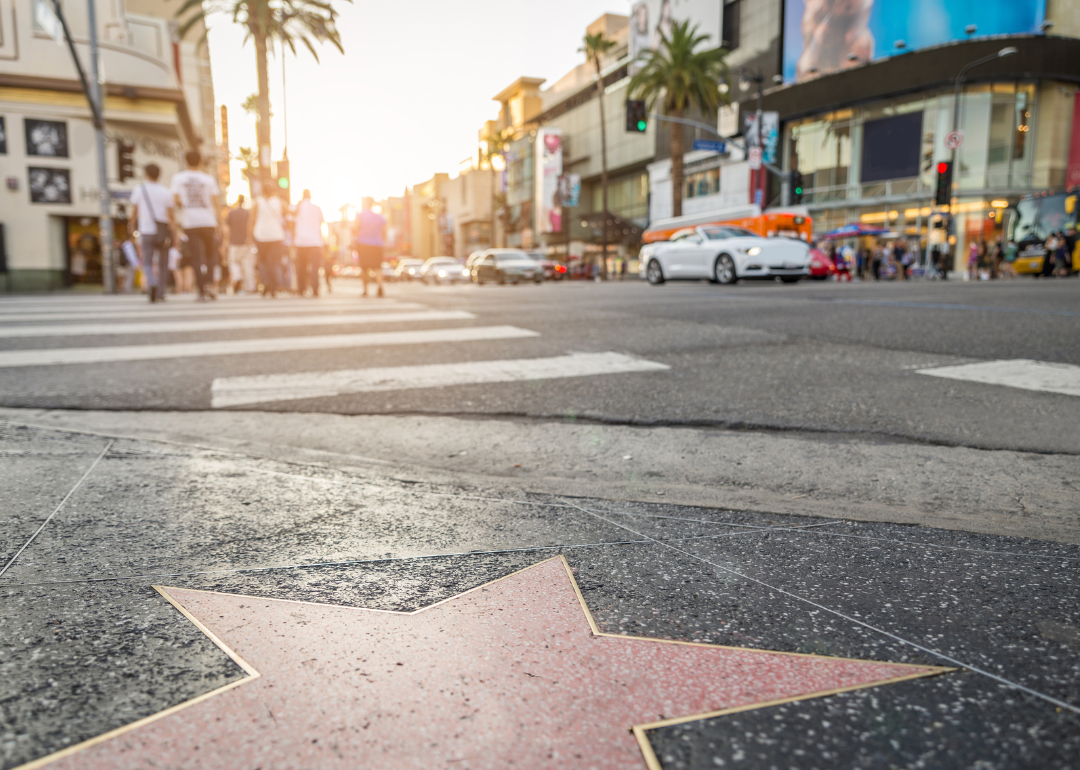 Canva
#3. California
Percentage of US adults who have been: 54%
Considering this state can take nearly 12 hours to drive the full length of it, it comes as no surprise that there are tons of sights to see in California. Los Angeles is known as the home of Hollywood, the rich and famous, and of course the neighbor to Anaheim's Disneyland. San Francisco offers a wealth of culture with the de Young Museum, Museum of the African Diaspora, and the Mission Cultural Center of Latino Arts. Sacramento, the state's capital, is a burgeoning city recently voted by Forbes as the top place to live in the state and is home to the California State Fair. That doesn't include the nine state parks like Joshua Tree, Yosemite, and more.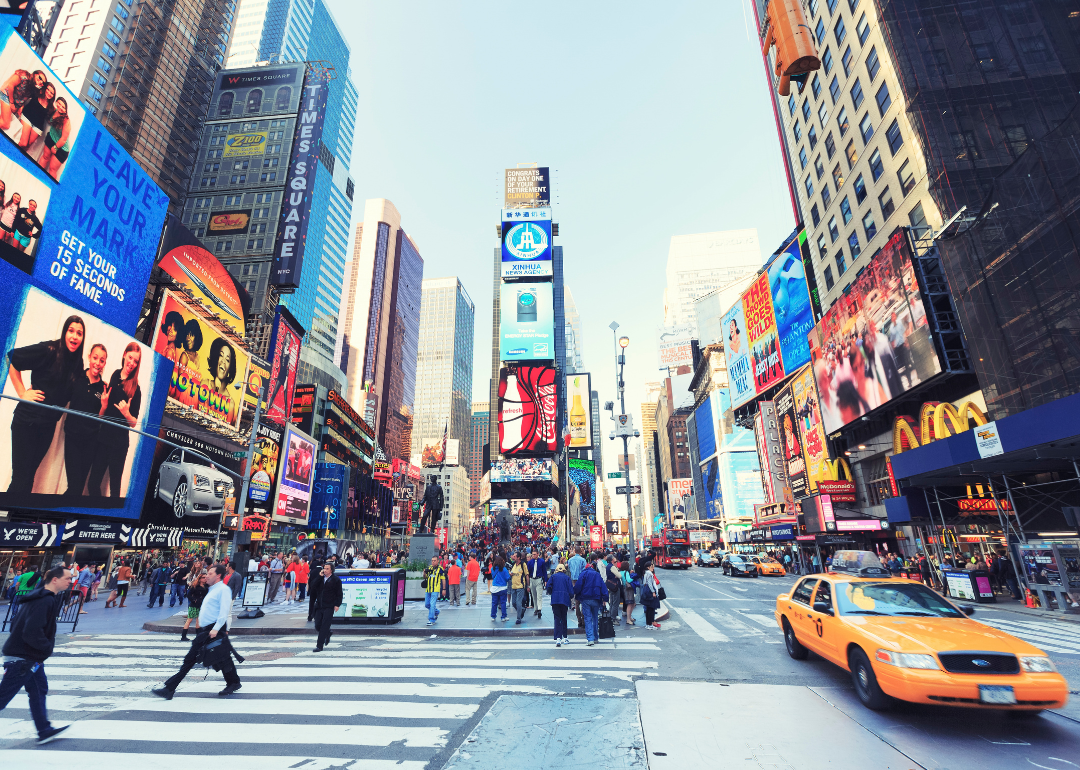 Canva
#2. New York
Percentage of US adults who have been: 55%
The city that never sleeps is also the city that brings the most visitors to the state of New York. First-time U.S. and international tourists love to visit Times Square, catch a Broadway show, and eat a New York slice of pizza. Music lovers can take walking tours that show you the birthplace of punk in Greenwich Village and the East Village or the birthplace of hip-hop in Harlem. Not to mention the city's countless museums, galleries, live music venues, and more.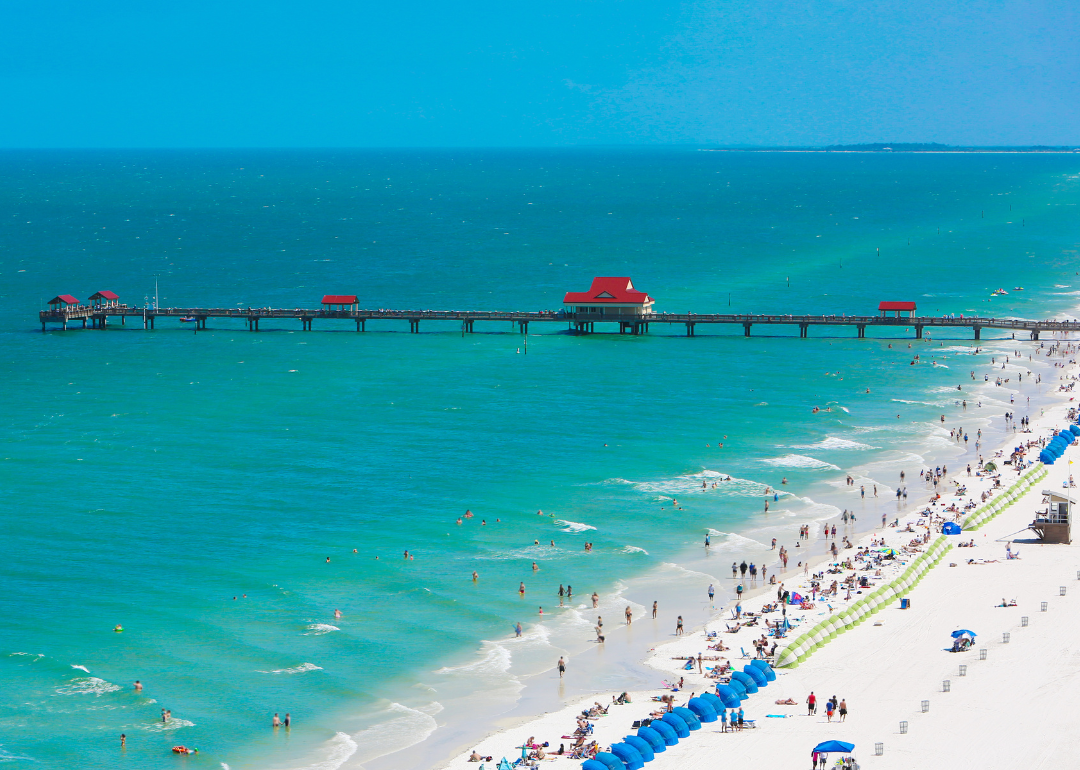 Canva
#1. Florida
Percentage of US adults who have been: 61%
For countless families, a visit to Orlando's Disney World makes a childhood, or adulthood, dream come true. Florida's pristine beaches also make it the top-ranked state for a trip in the U.S. Everglades National Park offers a great day trip for families, and if you happen to have a birdwatcher in your family, the wetlands in the park are home to the largest breeding ground for tropical wading birds in North America.
Data reporting by Lucas Hicks. Story editing by Olivia Monahan. Copy editing by Robert Wickwire. Photo selection by Lacy Kerrick.